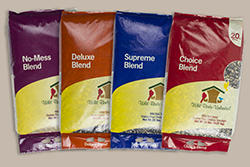 Some Food for Thought
Our quality bird foods target the specific birds you want to attract and discourage the birds you don't. We have exclusionary feeders and accessories that can prevent those domineering squirrels, blackbirds and other nuisance critters from eating you out of house and home.
And you will not find a better value in bird seed than our quality WBU Seed Blends. With our regionally selected formulas, fresh quality ingredients and no filler seeds, you can rest assured that you will not be wasting any of your money on worthless, uneaten seed.
Give it some thought… if you are ready to take action, we are here to help you get more birds for your bird feeding buck!