Come join the Club!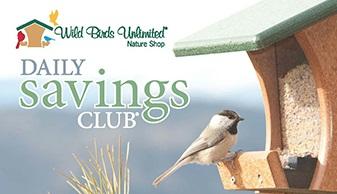 Become a Member and Receive these Benefits:
-15% off all Bird Food (Seed, Suet, Mealworms & More!) + Extra 5% off Sale Prices
-Earn $10 Bird Buck coupons for every $200 spent
-A Free Gift for Joining!
Sale prices aren't good enough for members of our Daily Savings Club®. They get 15% OFF all bird foods everyday & an extra 5% OFF the sale price of the Best Bird Food in Town.They also earn $10 Bird Buck Coupons for every $200 in store-wide purchases.
Come on in and see why we have the freshest birdseed at the best price in town!